We started The Scent Company in 2006. We mainly focus on the import and distribution of niche perfumes, men shaving and scented candles. Our aim was to offer small international brand on the best and sometimes unexpected locations.
The Scent Company selected a range of young brands, with a modern image as well as established, more classical brands with a rich historical background.
Because we thoroughly know the market, we are able to pick the more exclusive and special points of sale.

Robert & Liesbeth Helmer owners of The Scent Company
Our background.
We are, Liesbeth Rameckers and Robert Helmer, owners of
The Scent Company. We met in 1985, while we were both working for the Levi Strauss Jeans Company in Amsterdam.
Robert was visual merchandiser in this world of intelligent marketing and modern franchise, Liesbeth was product manager and later product communication manager. Robert then branches out in the health food, homeopathy and phytotherapy field, and later he started importing perfume brands.
This satisfied his passion for beautiful fragrances, made from high quality natural ingredients.
With his nose for excellence and his personal style of doing business, his scent-portfolio grew and grew. These last years he has worked full-time introducing the rich scents of small European perfume houses to Belgium and Holland.
Liesbeth, after a long and varied career at Levi's, became facility manager at the Design Academy in Eindhoven.
In 2008 she joined Robert in The Scent Company.
She conducts demonstrations at the sales locations, and introduces with pleasure and passion, these small, quirky, often family owned companies. She also organizes special customer days, introducing the products of these original brands.
Robert and Liesbeth travel to meet their providers in Italy, France, England and Spain.
They handle everything from their showroom in Amsterdam, back-office, to the ordering and expedition.
---
The Scent Company is opgericht in 2006 en heeft haar focus gelegd op het importeren en distribueren van niche parfums, herenverzorgingsproducten en lifestyle producten. Het doel is om kleine internationale merken op de beste en ook bijzondere plaatsen exclusief aan te bieden.
The Scent Company heeft gekozen voor een mix van jonge merken met een moderne vormgeving en merken met een rijke historie in een klassieke uitstraling.
Door een goede kennis van de markt worden alleen de meest exclusieve en bijzondere verkooppunten geselecteerd.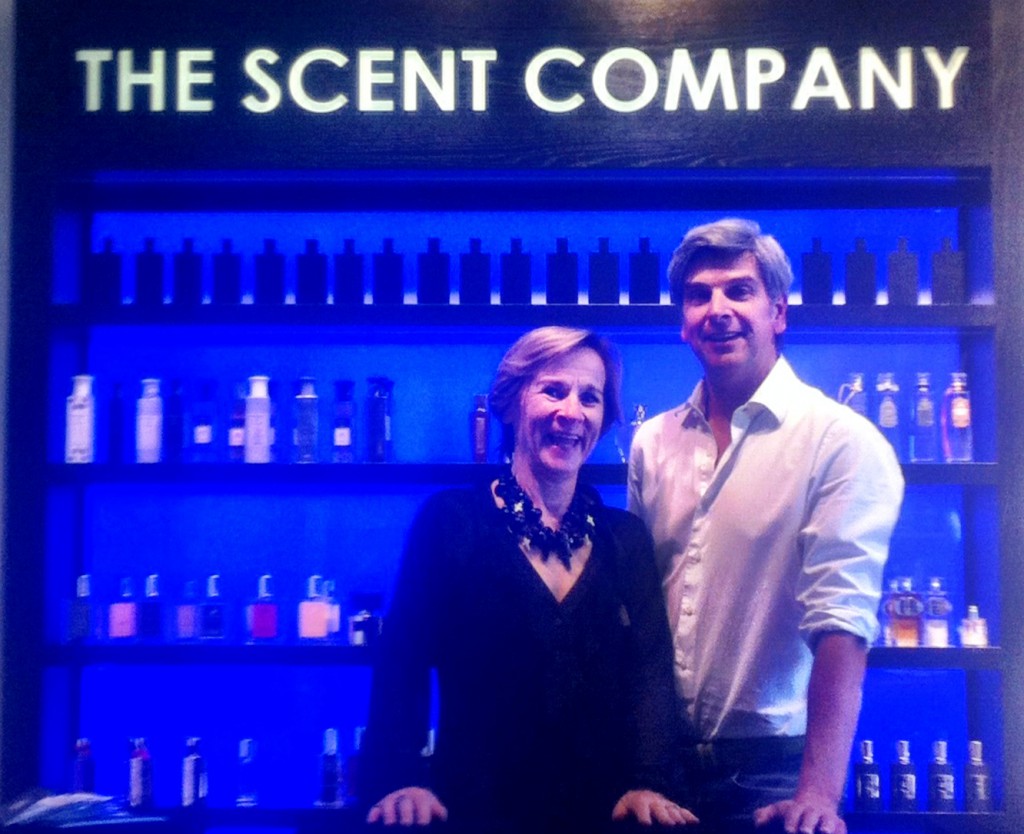 In 1985 hebben eigenaren Liesbeth en Robert elkaar ontmoet bij jeanslabel Levi's in een wereld van uitgebalanceerde visual merchandising, intelligente marketing en moderne franchise. Hij is daar visual merchandiser, zij is dan werkzaam als productiebegeleider en later als pr/communicatie manager.
Robert verlegt zijn werkterrein naar de homeopatie/fytotherapie en healthfood totdat hij in 2006 begint met het importeren van  parfummerken. Hiermee volgt hij zijn passie voor mooie geuren, gemaakt van hoogwaardige natuurlijke ingrediënten. Gecombineerd met zijn neus voor kwaliteit en zijn persoonlijke manier van zakendoen groeit zijn portfolio met geuren en in twee jaar tijd is hij meer dan fulltime bezig om Nederland en Belgie kennis te laten maken met de 'rijke' geuren van deze kleine Europese parfumhuizen.
Liesbeth werkt na een jarenlange gevarieerde carrière bij Levi's als facility manager bij onder andere Design Academy. In 2008 voegt zij zich bij Robert in The Sent Company. Met de demonstraties die zij geeft op de verkooppunten draagt zij met veel plezier de passie uit van deze familiebedrijven. Ook organiseert zij speciale klantendagen om hen kennis te laten maken met deze eigenzinnige parfumhuizen.
Zij ontmoeten hun leveranciers in Italië, Frankrijk, Engeland en Spanje. Robert en Liesbeth doen alles zelf vanaf de backoffice tot aan de bestellingen en de verzending naar de klanten.