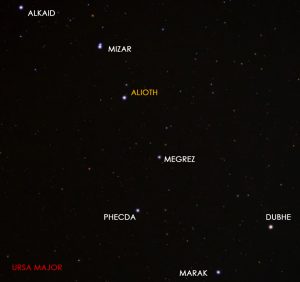 Ursa Major
Inspired by the brightest star of the Ursa Major, or better known as the Great Bear. Together with the stars Alkaid, Mizar and Alioth forms the stalk of the saucepan. The name "Alioth" comes from the Arabic word "alyat" (thick tail of a sheep). In Chinese this star is known as 北斗 五 (the fifth star of the Great Bear) or 玉衡 (the star of the Jade telescope). In the same constellation you will find Dubhe the inspiration for the other Attar Dubh. You may say Alioth is the sister of Dubh.
With a brightness of 1.76, Alioth is the 31st brightest star in the sky.
The perfume
Right from the start, the perfume takes you to the fragrance-library of Paolo Terenzi, where rare essential oils have been preserved for decades. One of those ingredients is the Sardinian saffron, one of the most precious saffron in the world. A perfect combination with leather tones. Followed by freshly grinded black pepper, green pepper and cardamom. This combination provides a warm but mysterious embrace. At the heart of the scent is a 50-year-old Bulgarian rose absolute, for one drop of which 1,000 rose petals gave their lives to create. The pleasing quality of this fiery rose is absolute supported by a beautiful, nutty ylang ylang and a smoky cypriol essence derived from a special type of wild grass grown in India.
As if it is not enough precious ingredients being used in the base, also the rare Indian and Cambodian Oud, mixed with Madagascar vanilla. Alioth shows the expertise and wisdom of three generations of perfumers from Italy and is made using unique, invaluable natural resources, most of which are almost impossible to find on today's market. An exclusive luxury for the privileged few who appreciate the perfect, unparalleled beauty of high-quality raw materials and the mixing of Attar quality.