Description
BLUE DIAMOND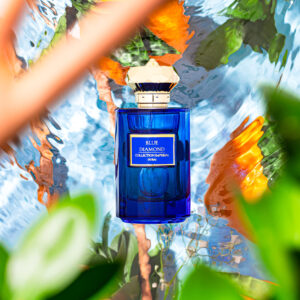 Blue Diamond opens with a bright sparkling burst of bergamot and delicate Mandarin Blossom, the freshness of the citrus unfurling with sweet Jasmine before sensual moss and dry woods accentuate an opulent, long-lasting trail.
Containing precious assam oud, a carefully guarded resource that grows only in certain parts of India and is painstakingly extracted from agarwood trees, Blue Diamond radiates with a luxurious, alluring oud wood as a seductive vanilla envelops you with a sophisticated final flourish.
This mesmerizing perfume epitomizes the splendor of the Imperial Collection.
Top Notes: Mandarin from Spain, Orange Blossom, Bergamot
Heart Notes: Turkish Rose, Egyptian Jasmine, Patchouli from Indonesia
Base Notes: Indian Sandalwood, Dry Wood, Grey Amber, Musk, Sweet Vanilla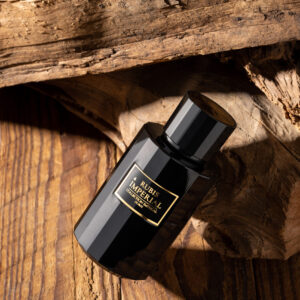 NIL IMPERIAL
Fragrance Nil Imperial opens with a note of lemon oil from Italy, followed by a soft floral heart with notes of Bulgarian roses and sugar.
The whole is subtly softened with elegance and refinement by oriental vanilla and white musk notes, which bring all the sensuality of the perfume to the base.
Top Notes: Italian Lemon Oil
Heart Notes: Sugar, Absolute of Turkish Rose
Base Notes: Intense Vanilla, Sugar, White Musk
RUBIS IMPERIAL
Deze verfijnde en frisse geur ontvouwt zich in een olfactorische compositie met een assertief karakter. Verrijkt met citroen uit Italië, worden de bloemige noten ondersteund door akkoorden van lavendel en warme vanille die dit elixer een elegant en fris parcours geven.
Topnoten: Citroen uit Italië, Citrusakkoord, Bergamot, Vanilleakkoord.
Hartnoten: Lavendel, Indonesische Patchouli
Basisnoten: Absolute Labdanum, Muskus, Amber
NUIT IMPERIAL
Nuit Imperial is een betoverende uitnodiging naar de Orient, de topnoten betoveren ons door de delicaat pittige en zoete geuren van een mandarijnenschil gecombineerd met sinaasappel, chocolade en vanille. Dit wordt versterkt door een elegant en licht gastronomisch en fruitig akkoord dat zijn verslavende werking geeft.
Topnoten: Koffieakkoord, Citroenolie uit Italië, Bergamot, Mandarijn uit Spanje
Hartnoten :Fluwelen roos, patchoeli uit Indonesië, sandelhout uit India, kardemom
Basisnoten: Chocoladeakkoord, Sinaasappel uit Marokko, Muskus, Amber
In deze extreme geur wordt het viooltje als nooit tevoren omgewerkt tot iets nieuws. Gecombineerd met bergamot, op de voet gevolgd door de zoetheid van subtiel gepeperde roos. Het hart van deze compositie is een prachtige mix van patchoeli, amber en vanille die een stortvloed aan sensaties biedt, die plotseling overweldigt.
Topnoten ; Bergamot, Viooltje uit Parma
Hartnoten: Fluwelen roos
Basisnoten :Patchouli uit Indonesië, Amber, Vanille uit Madagaskar
OUDH IMPERIAL
Ontdek de mystieke geur die het kostbare oudh uit het hart van de Oriënt verheerlijkt. Een betoverend sandelhout, mysterisch geven deze geur een majestieuze body in deze nieuwe oosterse houtachtige geur.
Een spel van subtiele contrasten tussen noten van amber en oudh, met de frisheid van bloemige noten van jasmijn en Bulgaarse roos.
Topnoten: Egyptische jasmijn
Hartnoten: Bulgaarse roos, Heet zandakkoord
Basisnoten: Agarhout, Sandelhoutextract, Amber, Witte Muskus