Description
Onyrico means "world of dream": scent take us to daydreams, suddenly transported without limits of space and time.
We would like to express the pleasure of beauty and refined, which is manifested in the attention to detail and endless nuances: the true and the luxury, always represented by time, are the most important ingredient of Onyrico.
We explored time and space through the history of some great characters, chosen from many Italians who have created works of extraordinary talent and beauty.
Art can exist on Earth just through man's works: and perfume is art.
Onyrico is a perfumed tribute to the Italian genius which has given beauty to the world over centuries.
The first edition of perfumes is born from the desire to affirm the joyful pride of being Italian, and because we believe in the genius and talent of Italians, we wanted our fragrances to be interpreted just by great Italian perfumers.
Onyrico is a fitting tribute to Italy, to its timeless emotions.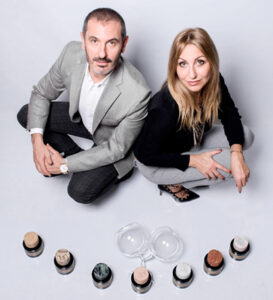 Onyrico is comprised of the same elements as the dreams of Emilia Armida             Chinigò and Giorgio Biella. The life stories of Emilia and Giorgio are those of freedom and independence. While hers is creative with a suitcase full of bright dreams, his is that of a successful entrepreneur looking for a new passion.
She is the heart and he is the wings of this dream.
They meet and create Onyrico – the first line of Niche & Co, a free and independent house that gives substance to the dreams of those who have the courage and talent to dare, just like the Italian geniuses reverently celebrated by Onyrico.
Onyrico is an unconventional perfume business, born as an expression of freedom and independence, and could not be otherwise.
Onyrico was made without creative or material limits, filling the large white canvas of freedom with the bold brush strokes of their dreams.
Onyrico is the story of a dream, a fairy tale that has become reality. It is a dream of the dreams of Italian geniuses who have left indelible marks in the history of Man.
Taste
The pleasure of beauty, refinement and luxury lies in attention to detail and  nuances.
Luxury is not made up of material goods. True luxury now more than ever, is time.
Have time and do something over time that satisfies and develops. This is what is at the heart of ONYRICO's aesthetic image.
Suggestion
A universe of emotions, travelling through time. A fitting tribute to Italy.
Each shade is a real unique, evocative moment.
Passion
The use of raw ingredients selected from the most noble and rare essences of natural origin, such as lemon and bergamot from Sicily, vetiver from Java, Damask Rose and Tuberose from Grasse, make these fragrances "niche".
Every raw ingredient is chosen to achieve a perfect harmony, note by note.
The bottles
The long history of the artistic Italian past meets in an elegant and minimalist bottle, which continues the legacy of Italian creativity through the essential style of modern Italian design, which has Milan as a capital of the world.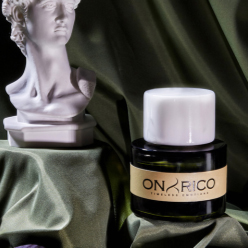 Marble
Elements of distinction unique and valuable are the marble lids of different quality, one for each fragrance. Each one is made by hand by skilled craftsmen, there is not a lid that is identical to another.
Each piece is unique and distinct.
Each marble lid speaks of its uniqueness and of the story of a material that is an essential element of Italian architecture and art. We can say that the history of Italy is all carved in marble.
Even the designs in marble recall the swirls and waves of perfume.
The marble lid seals in the fragrance just as the material encapsulates nature, making it eternal.