Description
Roberto Ugolini
Shoe making is in the blood of Roberto Ugolini, born in Florence: he grew up in a family of shoemakers. His grandfather and great-grandfather already worked in the same profession, his mother had a shoe shop for 40 years and his father repaired shoes.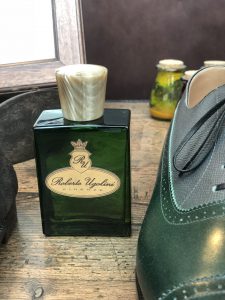 Due Strade
In his spare time Ugolini liked to watch his father – he learned a lot from him. At the age of 25, he even opened his own repair shop in Due Strade. But that wasn't enough for him: instead of repairing other people's shoes, he wanted to make them. So he approached master shoemaker Primo Vessilli, who had a workshop on Viale Alear-do Aleardi, but initially rejected the future student.
"duro come un mulo"
However, Roberto Ugolini says he remained "duro come un mulo" – stubborn as a mule. He didn't give up and in the end he got his chance. He was an avid student and the shoes he made were getting better and better. One day the master had to dismiss his disciple because of poor health. Ugolini was alone sooner than he expected and he started making shoes for his father, his brother and friends to find out if he was ready to make shoes for paying customers. He was and so he opened a store on Borgo Santissimi Apostoli with a friend. But he never stopped visiting retired shoemakers to learn old tricks of the trade from them. Eventually he moved his workshop to its current location on Via dei Michelozzi. Since then, custom-made shoes have been made here using traditional methods.
Ugolini takes measurements with pen and paper, works with foot profiles of sitting and standing customers, translates these measurements into a last and develops the perfect fit for each foot. Customers have to wait six months for a pair of shoes made in this traditional way. But many like to wait, because the results are well worth it.
Perfum collection
The Roberto Ugolini fragrance collection is inspired by this centuries-old traditional craft. The moment you enter Ugolini's shop, you meet a universe of images and scents: beautiful shoes stand on shelves and supple leather exudes its scent, as does the twisted and sculpted wood of the latter along the walls and the countless leather oils, waxes and polishes. Perhaps these olfactory impressions have fueled UgoLini's passion for perfumes.