Description
Seven perfumes radiating with one soul: Old
Marie Lise Bischoff has been in love with the stars that shine on the firmament since she was a child. It inspires her to create a perfume septet – seven 'star smells' that revolve around one sun, one ingredient: eagle wood or agar wood – better known as oudh or oud. Meanwhile, this intense wood from the Far East is popular in niche circles, but it still remains mysterious and very inspiring. Oud introduces you to the oriental perfume culture in an innovative way.
Nejma is the nickname that Marie Lise gets from her grandmother as a child. Nejma means star and that's no coincidence: from an early age she was inspired by stars shining in a thousand in the sky of Nice, the port city on the Mediterranean where she grew up. She now combines her fascination for stars with her other passion: perfume.
During a journey through the Middle East, Marie Lise hears of an Arabic tale and falls for its heroic content. According to tradition, the woman in the story is called Nejma (fate or coincidence?) who is blessed with a fascinating beauty and charm that, like the classical muses once did, inspires Marie Lise to create a new perfume line.
The 'fate story': Nejma is held captive to be eventually sold on the slave market. An Arabian prince chooses her for her beauty, spontaneity and the perfume that naturally envelops her body. From this relationship seven daughters are born, each one magnificently in her own way.
As an ode to their mother, each daughter creates a perfume that highlights a different aspect of their beloved mother. This is how seven perfumes find their way. The ingredient (the soul) that connects these seven scents is the precious, mysterious and oriental old.
NEJMA 1 oriental, woody
The first daughter of Nejma is sensual, intense but especially quirky in character. The opening floats between male and female. This is mainly due to the strong emphasis on dry green thyme, which is an original combination with the dry sweet saffron and rosehip. This "ambivalence" is continued in the heart because rose and jasmine are placed in a firm blend of old and patchouli.
Ingredients: thyme, rosehip, saffron, Bulgarian rose, jasmine, incense, old, patchouli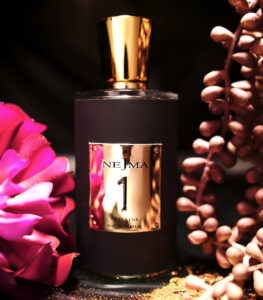 NEJMA 2 oriental, floral
NEJMA 2 oriental, floral
A sunny and oriental opening that is already a perfume on itself: sensual ylang-ylang and rose spiced by clove and saffron that gets an unexpected freshness from aldehydes. This opening is like a door behind which is a rosarium where the Ottoman and the Centifolia rose set the tone: sweet, fruity and full. And you immediately smell the soil in which they are planted: a rich, but not suffocating, because its woody character is enhanced by sandalwood and patchouli. Musk provides a refined, slightly sweet and powdery undertone. An oriental signature in pure essence.
Ingredients: ylang-ylang, white rose, aldehydes, cloves, saffron, Centifolia rose, Ottoman rose old sandalwood, Indonesian patchouli, musk.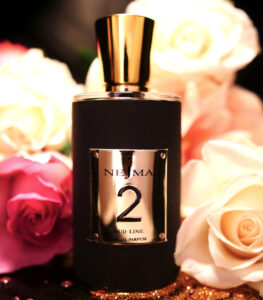 NEJMA 3 Chypre, Oriental
Here too the overture is used by the ylang-ylang, but this 'flower of flowers' is given a fresh accent by cardamom and orange blossom. Here too, the heart beats full of dandruff, only less lavish and airier thanks to hibiscus. Soon the oud draws his track. But here too 'restrained' because it is accompanied by sandalwood and oak moss which ensures that the oud remains in the forest and develops into an oriental seduction pur sang. Final impression: a rich but not predominant perfume.
Ingredients: ylang-ylang, cardamom, orange blossom, Bulgarian rose, hibiscus, sandalwood, oak moss, old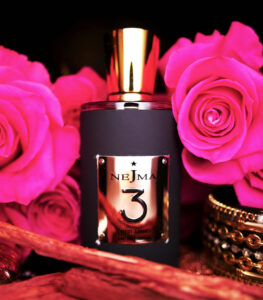 NEJMA 4 Chypre, fruity
The opening is like a fruity chypre by the emphasis on floral-fresh bergamot and overreached peach that give the ylang-ylang and geranium (with rose nuance) a cheerful and playfull frame. This tone is continued in the heart, because the Ottoman rose and jasmine absorb this viciousness. Wild daffodil gives the flowers an idiosyncratic sensual tuft. In this fragrance, oud is the most modest, gets an almost old-fashioned chypre-treatment by cistus labdanum, oakmoss and patchouli. Classic chic with an oud touch.
Ingredients: geranium, ylang-ylang, bergamot, orange, peach, wild daffodil, Ottoman rose, Egyptian jasmine, cistus labdanum, oak moss, patchouli and oud.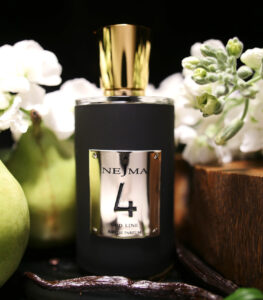 NEJMA 5 Chypre, floral
Can be the one and only twin sister of Nejma 4. Only she is a bit bolder. The opening is like a summer-smelling fruit basket: sweet, fresh and sparkling that gradually overflows into a classic jasmine and rose garland that gets an extra fresh-flowered but sensual underlay by neroli and daffodil. In the base is the oud soft, sweet and sensual by sandalwood and amber.
Ingredients: bergamot, grapefruit, nectarine, black currant, jasmine, neroli from Tunisia, Bulgarian rose, vetiver, sandalwood, amber and herbs.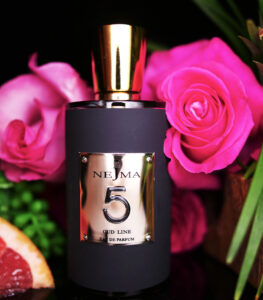 NEJMA 6 Floral, musk
Also a fruity chypre opening. Summery, but more exotic because of pineapple and coconut. And that tropical accent is continued in the heart by tonka bean with its rum-accent in a cloud of incense descending on a beach where the skin is heated by musk, milky sandalwood and benzoin subtly supported by oud.
Ingredients: pineapple, green apple, coconut, incense, tonka bean, petit grain, oud, white musk, sandalwood, benzoin of Siam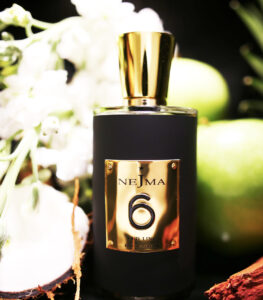 NEJMA 7 sweet, floral
The most selfless daughter. Because Nejma 7 is an oriental elixir in which oud is immersed in gourmand. The opening is like a flash – a short-lived fruity freshness that quickly makes way for cocoa and coconut (with a vanilla accent) that together provide a smooth, almost buttery sweetness that makes the oud warm and sensual in the base.
Ingredients: green mandarin, lemon (Calabria), pink grapefruit, neroli, cocoa, coconut, white musk, patchouli, oud.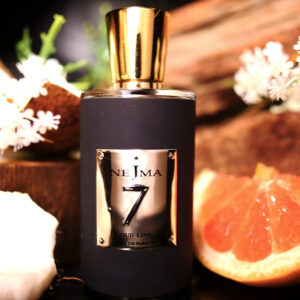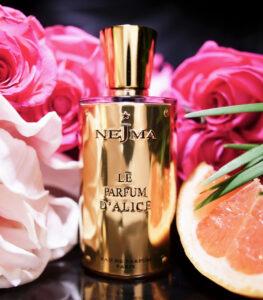 Parfum d'Alice, award winner:
In top notes the grapefruit, rhubarb and sparkling pink pepper harmonize with the blackcurrant, sublimate its green and fusing facet. The riche bouquet in heart made of peony subtly blended with orange blossom absolute and Turkish Rose absolute, is sublimed by the delicate fruity notes of the blackcurrant bud absolute. In the bottom the leathery scent of blackcurrant bud absolute is enhanced by the earthy Haitian Vetiver and enriched with labdanum and woody notes of Cognac oak barrels.
Ingredients: pink pepper, rhubarb, black current, pink grapefruit, Turkish Rose Absolute, orange blossom, white Peony, Black Current bud, vetiver, labdanum, patchouli, cognac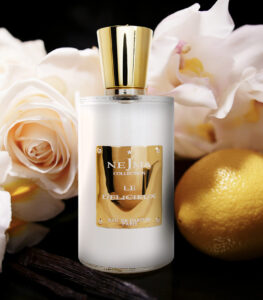 Parfum Le Delicieux
The sparkling pink pepper in top harmonizes with a bouquet of juicy and fresh citrus. The opulent floral and powdery heart consists of sambac, Jasmin, Damascena Rose, White Orchid and Italian Iris. In the background notes of caramel, vanilla, amber and patchouli gives to the fragrance a warm and delicious trail.
Ingredients: pink pepper, bergamot, mandarin, sambac, Jasmin, Damascena Rose, white Orchid, Orris, patchouli, vetiver, vanilla, amber, caramel
Parfum Le Sublime
This precious flowers bouquet made of Rose, Jasmine, Orange blossom and Magnolia is highlighted by the freshness of citrus and passion fruit. In the background the note delicately sweet of brown sugar, caramel and dark chocolate mixed with the woody accord bring sophisticated and glamorous trail.
Ingredients: Yellow Mandarin Bergamot – Pink Grapefruit – Passion Fruit  Orange Blossom Absolute – Grandiflorum Jasmine – Damascena Rose – Magnolia Virginia Cedar – Brown Sugar -Patchouli – Dark Chocolate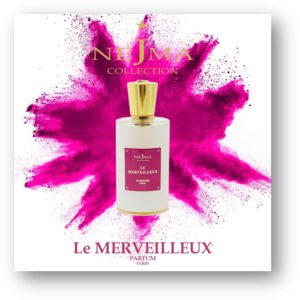 Le Merveilleux
Le Merveilleux is a soft golden glow of a fragrance that illuminates the skin with its radiant warmth. A beautiful melody of notes to bewitch all those who smell it.
Bergamot, Lemon, Mandarin, Grapefruit, Amber, Osmanthus Absolute, Davana Flower, Tuberose, Vanilla, Patchouli, Benzoin, Tolu Balm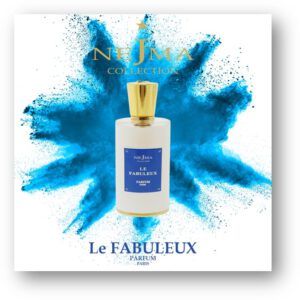 Le Fabuleux
Take a sensual flight with Le Fabuleux and be immersed in its heady fragrant coils. With its singular and intoxicating beauty, Le Fabuleux invites the senses on an extraordinary olfactive journey.
Incense, Carrot Seed Oil, Angelica Flower, Black Cherry, IrisConcrete, Licorice Wood, Violet, Musk Mallow Seed, Tonkin Musk, Sandalwood, Ambergris, Brown leather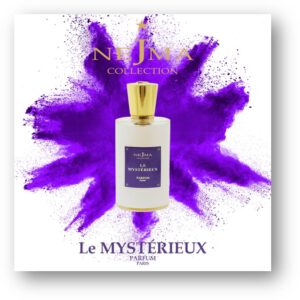 Le Mysterieux
Le Mysterieux surrounds the wearer in a deeply intense and addictive veil of fragrance. An enigmatic scented mystery that stays on the skin, one that you hope will last forever.
Caramelized Pear, Cistus Flower, Mandarin, Star Anise, OudWood, Cocoa Absolute, Everlasting Flower, Damascena Rose, Tobacco Leaves, Suede, Vetiver, Tonka Bean