Description
SANTI BURGAS White Collection are born to move. As a painter's blank canvas, Santiago Burgas uses these elegant white bottles to capture his olfactory sensitivity. He creates a collection in accordance with the present moment, true to his technique and to his sensory experience, achieving a perfume that evokes a symphony which true lovers of author perfumes will surely appreciate.
The White Collection, with its minimalist looks but a highly worked out content, is the result of an unplanned formulation, without rules or prescriptions. The precious white bottle has a ceramics aspect that reminds purity and the cap is made with untreated wood from sustainably managed European forests. The White Collection is a master piece that brings back pleasant memories.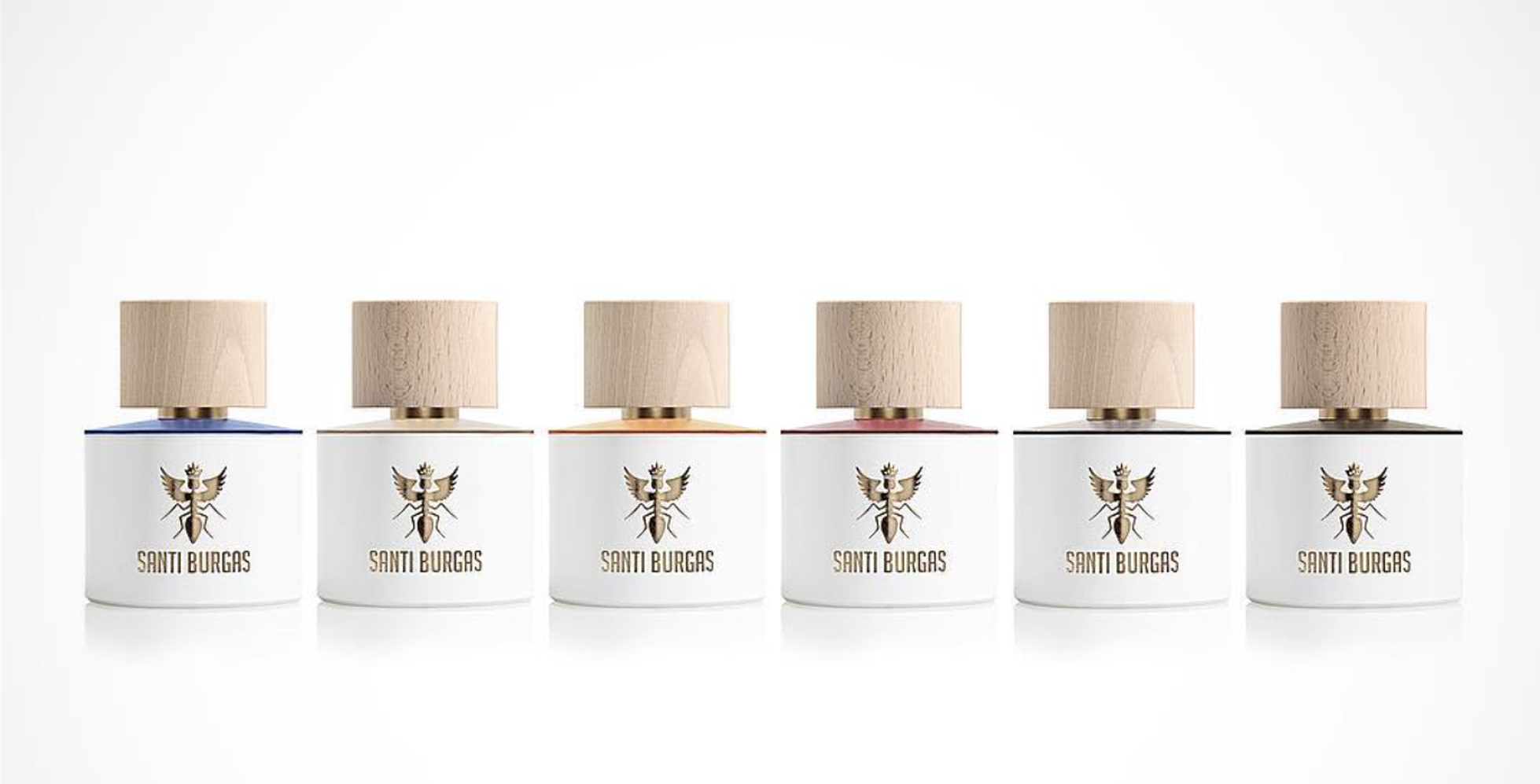 The Palindrome Collection: darkness morphing into light.
A palindrome is a word or phrase that can be read the same way backward or forward, often possessing a mysterious or mystical meaning. Palindromes are also believed to cast a protective effect on the reader. The white canvas established by Santi Burgas' White Collection has been darkened, resulting in stark black bottles for the new Palindrome collection. Only the logo remains in white as a symbol of eternal resistance, the outer black colour acting as a protective shield for the luminous liquid inside. The three PALINDROME fragrances are full of light and hope, and patiently await to be released, delivering a message of harmony and peace. They are the result of a collaboration with master perfumer Rodrigo Flores-Roux.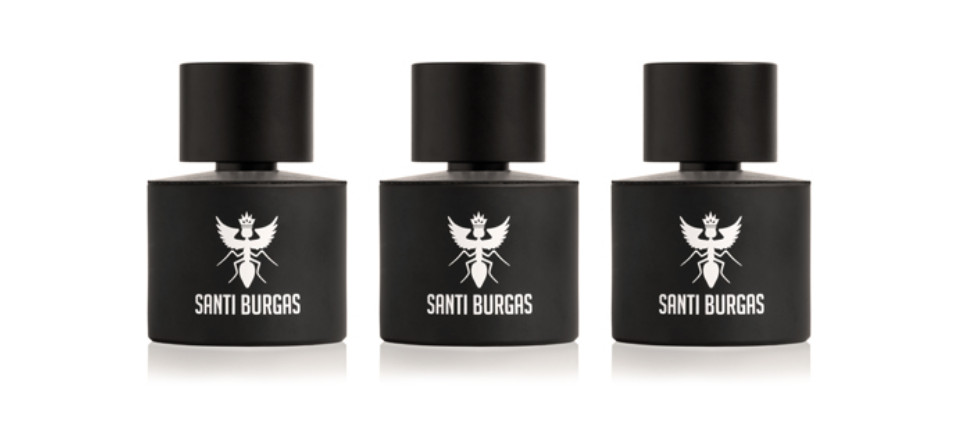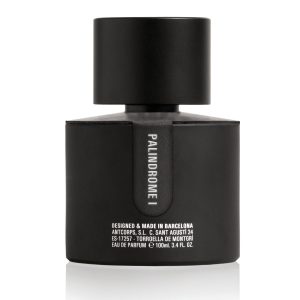 Palindrome I is the first perfume conceived as a palindrome, as it can be discovered both backwards or forward. Just like reading a palindrome in both directions and without pausing, PALINDROME I remains immutable: once the lighter citrus notes have subsided, the warm, incense-laden heart reveals itself like a protective mantra.
Intoxicating balsams and ambery accents can then be felt, while the luminous opening surprisingly reappears, ushered by the robustly rich woodiness of Ambermax.
NOTES:
Sicilian lemon, Sicilian mandarin, cocoa beans, Somalian frankincense, tolu balsam, Ethiopian opoponax, Andalusian cistus, ambrette seeds, vanilla bean tincture, sandalwood & Venezuelan tonka beans.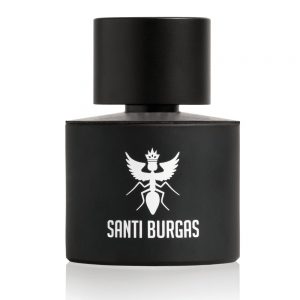 Palindrome II Works as a palindrome in a different way.
This fragrance revolves around a solid and powerful woody axis of patchouli, which can be felt from the first to the last stages of its evolution. A warm and spicy touch of black pepper, cardamom and ginger enhance the heart notes. Still shining because of a resilient sparkle of Calabrian bergamot. Unexpected nuances of angelica roots, intoxicating sugar cane and leather accords complete the picture.
NOTES:
Calabrian bergamot, angelica roots, sugar cane, white and black pepper, Nigerian ginger, Ceylonese cardamom, Castoreum, Chinese osmanthus, Maltese labdanum, cinnamon tree leaves, leather accord, patchouli & Mexican vanilla beans.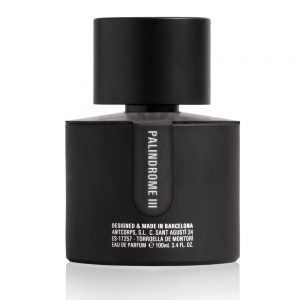 Palindrome III, an overflowing and layered composition inspired by osmanthus, reveals itself as heightened delight to the senses. Osmanthus is a small flowering tree of Chinese origin that blooms explosively, its tiny yellow flowers filling the air with a delicate but opulent floral and fruity aroma reminiscent of apricots. Palindrome III uses a unique combination of two radically different osmanthus absolutes that deliver a contrasting interplay between joyful and colorful fruity accents and darker, richer and more animalic and leathery notes. This olfactory game sways back and forth between light and darkness, illuminating itself with sparkling mandarin, Jamaican rum and davana, before diving into the shadows of an overdose of cistus labdanum, poplar sapling absolute and extra-pure patchouli. A surprising touch of black olive adds a haunting element to the composition, rounded off with elegant rose essence from Bulgaria.
NOTES:
Mandarin, black olive, osmanthus flowers, osmanthus absolutes, labdanum, poplar buds, Jamaican rum absolute, Bulgarian rose, patchouli, artemesia & davana.
A as in ADH "Aroma de Hormiguero"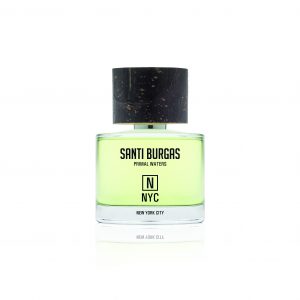 N as in NYC "New York City"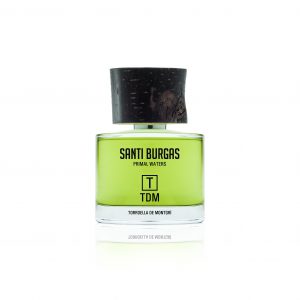 T as in TDM "Torroella de Montgrí"