Neroli wordt ook wel sinaasappel- of oranjebloesem genoemd en heeft een exotische bloemige geur die activerend op geest en lichaam werkt.
De Neroli olie wordt gewonnen door waterdampdestillate van de bloesem van de bittere sinaasappelboom (Citrus aurantium amara), die behoort tot de wijnruitfamilie Om 1 kilo olie te verkrijgen is ongeveer 1000 kilo bloesem nodig. Uit het achtergebleven distillatiewater waarin nog resten etherische olie aanwezig zijn wordt het sinaasappelbloesem hydrolaatgewonnen, dit hydrolaat kan je goed gebruiken om cosmeticaproducten te maken.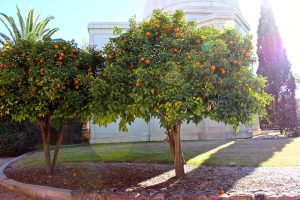 De Citrus aurantium amara is een sterke citrusboom. Ze zijn groen blijvend en kunnen in het wild een hoogte van 6 meter bereiken. Gecultiveerd, worden ze maar half zo hoog.
De vrucht wordt gebruikt om smaak te geven aan likeur, zoals Grand Marnier en Triple sec en van de bladeren en twijgen wordt de petitgrain olie (soms ook bigarade genoemd) gemaakt.
Neroli helpt effectief bij emotionele problemen maar het is ook een zonnige olie die zeer goed in huidverzorging en parfum gebruikt kan worden. Neroli is één van de weinige etherische oliën waarvan wetenschappelijk bewezen is dat ze de serotoninespiegel in de hersenen verhoogt, hoewel de kracht van suggestie en persoonlijke voorkeur een belangrijke rol kan spelen in de effectiviteit. Serotonine is een belangrijke humeur verbeterende neurotransmitter en een verhoogde spiegel in de hersenen zorgt voor een prettig en rustig gevoel.
Er wordt geloofd dat de traditie om sinaasappelbloesem in het boeket of kapsel van een bruid te gebruiken is, omdat de geur van de bloesem de zenuwen stilt.