Neroli is also called orange or orange blossom and has an exotic floral fragrance that activates the mind and body.
The Neroli oil is extracted by steam distillation of the bitter orange tree blossom (Citrus aurantium amara), which belongs to the winery family. To obtain 1 kilo of oil, about 1000 kilos of blossom is needed. From the residual distillation water in which residual essential oil is still present, the orange blossom is hydrolated, this hydrolate can be used to make cosmetic products.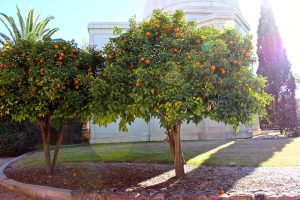 The Citrus aurantium amara is a strong citrus tree. They are green and can reach a height of 6 meters in the wild. Cultivated, they are only half as high.
The fruit is used to flavor liqueur, such as Grand Marnier and Triple sec and from the leaves and twigs the petitgrain oil (sometimes also called bigarade) is made.
Neroli helps effectively with emotional problems but it is also a sunny oil that can be used very well in skincare and perfume. Neroli is one of the few essential oils scientifically proven to increase serotonin levels in the brain, although the power of suggestion and personal preference can play an important role in effectiveness. Serotonin is an important mood enhancing neurotransmitter and an elevated mirror in the brain provides a pleasant and calm feeling.
It is believed that the tradition of using orange blossom in a bride's bouquet or hair style is because the smell of the blossom keeps the nerves quiet.