The NOBILE 1942 family is expanding with a wonderful summer fragrance for men and women. It opens with some neroli and maritime notes complemented with white flowers, this is a nice addition to the Nobile 1942 collection.
The name "Levante" is derived from the old Italian word "levant" and means "to stand up" – and specifically the rising of the sun in the East. In addition, Levant was used as a historical term;  a piece of land in the eastern Mediterranean described. A piece of land that covers everything from Greece to Lebanon and Syria. The smell is as clear and sparkling as his inspiration. The salty breeze of the sea that blows along the white flower walls.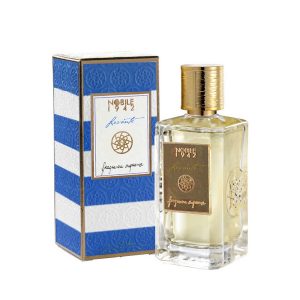 A place where travelers are looking for peace and serenity, where a walk on the beach just in the direction of sunrise simultaneously intoxicates and calms down. An elegant and calming perfume that needs to be worn when you want to experience the magic of Levant on a warm summer evening.
Top notes: Maritime notes, Jasmine, White flowers
Middle notes: Patchouli, Cedar
Base notes: Vanilla, Caramel, Musk, Benzoin
Initially for the German market, but now available for 6 months exclusively for the Benelux market!