Hair is having a tough time, every day it is exposed to environmental pollution, poor nutrition, medicines and chemical treatments that affect the keratinm structure. ACCA KAPPA is the first that comes with a hair perfume! A specially formulated perfume to envelop the hair with a pleasant scent and at the same time contribute to the improvement of the hair. In addition to the fresh White Moss fragrance, the hair perfume is rich in nutrients for the hair.
Red wine and green tea extract.
The organic extracts of green tea and red wine help protect the hair from damage caused by external influences. The red wine extract is obtained from the leaves of the Vitis Vinifera and consists of flavonoids. Flavonoids are an extensive group of nitrogen-free organic compounds that have anti-oxidative effects. This means that they neutralize the harmful effect of aggressive oxygen molecules. The green tea is obtained from the leaves of the Camellia Sinensis, a small tree from Southeast Asia. Green tea extract is a phyto complex with extraordinary cosmetic properties. The polyphenols and tannins ensure the strengthening of the hair.
Keratin.
In order to restore the damage to the structure of the keratin, the hair needs small proteins that resemble keratin physiologically and biochemically. The vegetable keratin that ACCA KAPPA uses is a mixture of amino acids derived from corn, soya and wheat. The final composition comprises the same 18 amino acids as keratin. The low molecular weight of the hyprolyzed proteins on vegetable keratin allows them to penetrate the structure of the hair and restore it efficiently.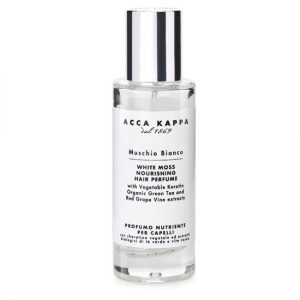 How to use?
Keep the spray at 15-20 cm from the hair and spray all over the hair perfume. Another way is to spray your brush before you have your hair. The hair perfume is not greasy and leaves no residue.
CONTAINS NO: SLS - SILICONE - PARABENS - PETROLATES - CHEMICAL ANTIOXIDANTS - GMOs