1..1 The latest perfume from
Nobile Profumeria Artistica
"The idea of ", the new fragrance from NOBILE 1942, says Stefania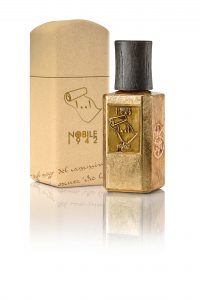 Giannino, Artistic Director for this Genovese brand, "is precisely this sense of continuity, of waiting, of seduction by words. Nobody gives a better idea of the power of seductive story-telling than Scheherazade, the heroine in Arabian Nights, who managed to enchant the man who wanted to kill her with her 1001 tales. It was this very book, which I adore and which I discovered in the original language during my studies of Arabic at L'Orientale university, that gave me the input for "
In line with our style, we chose an Italian Perfumer, Luca Maffei.
Here are his thoughts:
The name of the fragrance, 1001, made me immediately think of the marvelous story that we all know and that continues to fascinate entire generations. I imagined a young woman, beautiful, strong and courageous. if you like, and somehow the symbol of all today's women, regardless of race or ethnic group. I wanted the ingredients I chose to recall the mystery of the Orient with its colours, aromas and flavours.
The main player in this fragrance is Papyrus.
The perfum opens with Bergamot, Red Tea, Ginger Fresh, Elemi, Pink Pepper supported by Fleur Papyrus, Turkish Rose Essence, 
Jasmine Grandiflorum Abs., Iris, Saffron, Curcuma Abs. and finishes  with Patchouly, Sandalwood, Amber, Vanilla, Musk
NOW AVAILABLE at The Scent Company