That shampoo has an influence on the quality of the hair we know by now. More and more we see blogs in which is told that daily washing your hair is not good for you. In addition, the number of shampoos based on natural ingredients and without SLS (synthetic foam maker) increases. But what you hardly hear is that the quality of your hairbrush also affects the quality of your hair.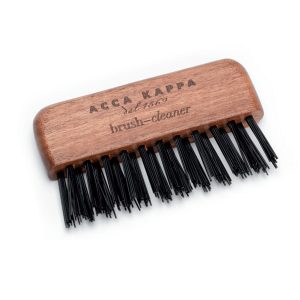 Brushes with real (boar) hair care for the hair, so it ensures that the hair shaft remains nice and smooth and helps prevent split ends. It is preferable to brush the hair well before bedtime. The sebum of the scalp brush through the hair, keeps the scalp healthy and ensures a good blood circulation.
However, brushes with real hair are generally slightly more expensive than a plastic brush. Proper care of your brush also ensures that it lasts longer. ACCA KAPPA, known for quality brushes made in Italy, has therefore developed a handy cleansing brush, made of wood with a sturdy nylon. The Brush Cleaner removes dust and hair from the brush. Take it through the brush from top to bottom and from left to right, if necessary diagonally and your brush is clean again. 
The hairbrush can be washed with a soft shampoo, but make sure that the wood and natural rubber do not stay wet for too long and let the brush dry with the hair down.
The brush is ready for daily use of the hundred strokes through the hair.