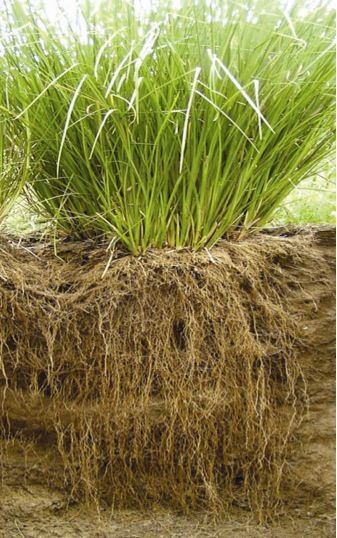 The name vetiver probably rings a bell. This raw material, was broadly used in some very famous perfumes of the last decades : Vetiver – Guerlain (1959), Vetiver 46 – Le Labo (2006), Terre – Hermes (2007), Sycomore – Chanel (2008).
Time to give some more explanation on this beautiful scented plant. The vetiver, ( or Vetiveria Zizanoide for the botanist/ latin speakers) is a herb which grows up to 1,50 meter high, with a very interesting root-system. 
Especially for perfumes. 
By doing a steam distillation of the dried roots, you will obtain a deep, lightly smoky, heavy, nutty, a little bit sweet, earthy, woody… base note. You probably understood how rich the vetiver smell is. When analysing the oil, you will find that the vetiver has quite a complex chemical identity. It also explains why the vetiver is often considered as a perfume itself.
Molecules such as vetiverol, acetate de vetiveryl, and some sesquiterpenes can be found in the oil.
Even with such a complex composition, the good news is that this raw material is NOT limited by any type of restriction ( IFRA, allergens … ). We will therefore be able to enjoy this elaborate scent for quite a while.
This tropical grass was originally from India and Sri Lanka, and is nowadays found in various tropical countries.
There are 3 types of vetiver used for perfumes: 
– Vetiver Bourbon : coming from La Reunion it is the best and the most expensive. It is also generally the richest in       Vetiveryl Acetate.
– Vetiver Haiti : well balanced, with round and smoky notes
– Vetiver Java : less expensive, the most smoky and harder to use
If you suddenly feel the urge to extract and smell the vetiver, you will probably need 1000 kgs of dried roots to get more or less 10 to 15 kg of the essential oil.
One more fact : The roots are also now cultivated in many tropical countries for household purposes and as an effective strategy to prevent soil erosion.